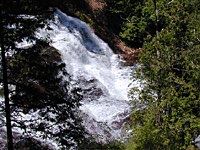 Large beautiful waterfall that is visited by many people. Located just off of M-28 The short hiking trail is well-marked and easy to find.
Directions: Go 6.5 miles East of Bruce Crossing on Hwy M-28. You will see a sign on the Hwy at the Bridge. Park in the parking area on the south. Follow the well marked trail under the bridge to the waterfall.
Photos of Agate Falls via Flickr
Flickr Tag Error: Call to get metadata for photo '5836285726' failed.
Error state follows:
type: 8
message: Use of undefined constant WPW_SL_STORE_URL - assumed 'WPW_SL_STORE_URL'
file: /home/kewadinn/public_html/yooperblog/regalinn/wp-content/plugins/cff-extensions/cff-lightbox/cff-lightbox.php
line: 21
Guest Reviews